Bitcoin mining malware grinds healthcare systems to a halt in Finland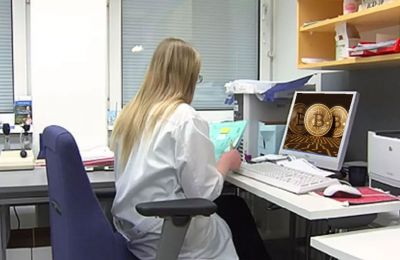 Healthcare systems in the Lahti, Finland are unavailable - grinding health care services to a halt. According to the city officials the system outage is caused by malware mining cryptocurrency Bitcoin. The malware has not yet been identified.
The outage is caused by the CPU usage of computers service being dedicated to computation for Bitcoin mining. IT staff state that the malware has been contained and it is no longer functionality. Details on the schedule of restoring health services are still not clear.
Data connections between systems were cut to limit the spreading of the malware. This is why health data is currently not available for healt stations or dental services in the area of Päijät-Häme. Restoring full service depends on whether the antivirus providers have a readymade fix. If a manual cleanup is needed it will take around a week.
X-Ray images and electronic prescriptions unavailable
Disruptions to services have been significant, but currently it seems the malware didn't cause havoc beyond the unauthorized use of processing resources for financial profit by generating Bitcoin. The malware did not spread to the main hospital in the area, but has prevented access to x-ray images and bloodtest results.
Laboratory results are not available, and neither are electronic prescriptions for medicine. Patients in need of acute treatment are advised to call health facilities via phone. Some other services like libraries have also experienced outages because the malware spread there.
This is another reminder how IT systems can be a potential attack target. In November 2016 some buildings lost heating, due to a botnet executed denial of service attack brought down house control systems in the middle of winter.
Cryptocurrency mining is no longer financially viable in Finland due to electricity prices, compared to China and other countries. Some students have found a loop hole and are mining Bitcoin in student dorms where electricity "free", as inincluded in the rent.
Written by Janita on Friday February 9, 2018
Permalink -