Europol most wanted fugitive Jaakko Ilari Nurminen captured in Paris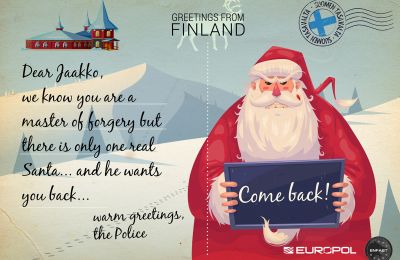 Europol states that one of the most sought after criminals from Finland has been arrested. The suspect was caught in Paris, thanks to the EU Most Wanted website providing a tip.
After receiving the tip, the arrest was done in cooperation with authorities from France and FInland. Together with the Finnish Police the French National Police proceeded with the arrest on the first week of February 2018.
Currently the name of the suspect has not been revealed by the authorities, but it is stated that the fugitive was wanted for fraud and forgery. This lines up with the Finnish fugitive Jaakko Ilari Nurminen, featured in the Europol holiday card campaign in August 2017.
Nurminen is accused of Fraud, including affecting the financial interests of the European Communities. This is based on the Convention of July 1995 that stipulates the protection of member states in the union of countries.
The authorities laud this as an example of how the general public can provide help to authorities to catch wanted fugitives. Since the launch of the EU Most Wanted website in 2016, the campaign has yielded 44 fugitives that have been captured. At least 16 of them have been a result of tips from the public.
Written by Janita on Tuesday February 13, 2018
Permalink -