Record 90 Million Eurojackpot prize remains unclaimed a month later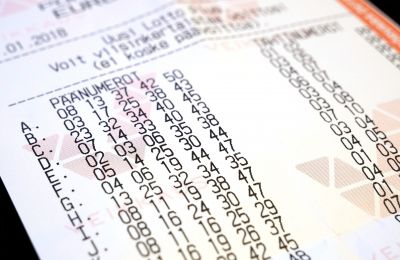 The largest ever prize in the Eurojackpot was won on the 9th of February 2018. The winning play was done in the small city of Loimaa, Finland. A month later the winners of the 90 Million euro sum have not claimed it. Speculation runs wild.
The winning numbers were selected in the Prisma market in Loimaa. The winning coupon was shared by five players, all of which would get 18 Million euro. The hard cold cash would be immediately payable, if the winners would only show up with the coupon to claim the prize.
Players of lottery can use a digital id, which would make it possible to track the winners. In this case the winning numbers were simply printed on a paper coupon, so it is impossible to know who played the winning game in the town of some 16,000 inhabitants.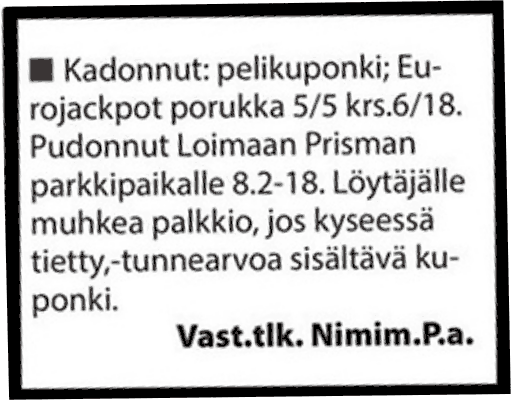 The winners have a one year to to claim their win or otherwise the money can be returned to the organization managing the Eurojackpot game.
Players in 18 European countries have a shot at the weekly prize, which has ranged from 10-90 Million euros.
Speculation on why the winners have not shown up to pick their claim runs wild in the area. Some think the people are still in shock and are waiting to make the claim.
Others think the paper coupon is simply lost or destroyed and all proof of the 90 Million euro win is lost. Some cheeky person has even posted the following ad in the local paper:
Lost: game coupon; Eurojackpot for round 6/18. Fell on the Prisma parking lot on 8.2-18. Finders fee, if the found coupon is the one having significant sentimental value.
So far the largest unclaimed win in Finland is some 2,4 Million euro worth lottery win in 1995.
Written by Janita on Sunday March 11, 2018
Permalink -