Interview: Kimi Räikkönen self-critical before the 2018 Formula 1 season opening in Albert Park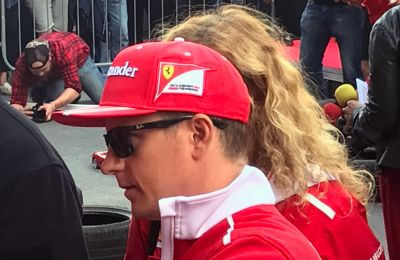 The Formula 1 series has kept it's position as premier motorsports league. The development in the sport is also rapid, which has kept motivation up for Kimi Räikkönen, is revealed in the interview by the 2007 F1 World Champion given to Heikki Kulta before the season opening.
The 38 year old is the oldest driver in the F1 circus, and he spoke to Heikki Kulta of Helsingin Sanomat before the 2018 season starts in Albert Park track in Australia. This is the same track where he began his Formula 1 career with Sauber in 2001.
According to Räikkönen every driver enters the new season with high hopes, especially that the car would be better than ever. On Räikkönen's long career the expectations have been filled almost each time. Kulta asks the fellow finn whether this is true for the fifth consecutive season he now starts at Scuderia Ferrari Racing team:
"I can't deny it [the car] has not gotten progressively better. The rules have changed too, but I have always noticed an improvement. And it would be worrying, if there was no improvement to the car over the years. When I look at my career, it's been only a few times that the car felt worse than the previous one. I think it was just one year at McLaren in 2003, when the new car was not raced at all"
Räikkönen not into comparing apples and oranges
"Also you have to compare only to the cars that you have had. Comparing to competing cars would make no sense, and in some case comparisons don't make sense. If the regulations change massively, like they did from 2008 to 2009 it does not make any sense. If the rules are as close as now, it is much easier to compare."
The Albert Park track has been good hunting grounds for the Iceman. He has won in Australia twice in 2007 and 2013. He would have had a third win in 2003 if the McLaren speed limited had not acted up and dropped him into third place. It's now been five years since the Lotus win. After that Räikkönen has driven for Ferrari and placed 7th in 2014, not finished in 2015 and 2016 and last year yielded a solid fourth position.
"I'm not so sure if the track is that good to me. If you remember how many times I've been here and won only twice, I don't think it's very well done".
Räikkönen has always been reluctant to speculate the season opening based on the winter testing. According to him it is better to wait for the race weekend and only then do they really know where everyone stands. According to the veteran driver victory is still the ultimate target
"Of course I'm always aiming for the win. This work is not motivating, if after all the preparations we wouln't arrive here to do our best to succeed"
Source: Kahdesti Australiassa juhlinut Kimi Räikkönen itsekriittisenä HS:n haastattelussa: "Ei se nyt niin tavattoman hyvin ole"
Translations: Colloquio: Räikkönen autocritica prima dell'apertura della stagione 2018 ad Albert Park, Interview: Kimi Räikkönen selbstkritisch vor der Eröffnung der Formel-1-Saison 2018 im Albert Park, Interview: Kimi Räikkönen s'auto-critique avant l'ouverture de la saison Formule 1 2018 à Albert Park, Wywiad: Kimi Räikkönen samokrytyczny przed otwarciem sezonu Formuły 1 w 2018 roku w Albert Park, Entrevista: Kimi Räikkönen autocrítico antes da abertura da temporada de 2018 da Fórmula 1 em Albert Park, Entrevista: Kimi Räikkönen autocrítico antes de la apertura de la temporada de Fórmula 1 2018 en Albert Park, Interview: Kimi Räikkönen zelfkritiek vóór de Formule 1-seizoensopening van 2018 in Albert Park, インタビュー:KimiRäikkönenは、2018年F1のシーズン開幕前に自己批判的なAlbert Park, 采访:在阿尔伯特公园2018年F1赛季开幕前KimiRäikkönen自我批评, 인터뷰 : Kimi Räikkönen, Albert Park에서 열린 2018 포뮬러 1 시즌 전에 자기 비판적이었습니다., साक्षात्कार: अल्मीर्ट पार्क में 2018 फॉर्मूला 1 सीज़न के उद्घाटन से पहले किमिक राइकोनेन स्व-आलोचनात्मक, Интервью: Кими Райкконен самокритично до открытия Формулы-1 2018 года в Альберт-Парке,
Written by Janita on Thursday March 22, 2018
Permalink -