Renault to return to F1 as Alpine?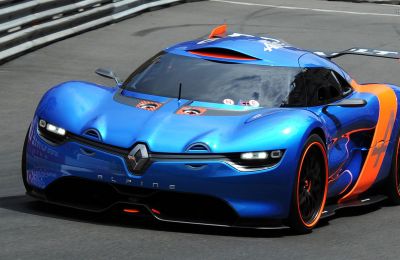 Renault F1 engine provider spokesman Abiteboul denies that the Lotus F1 team would race under the same name in the 2016 season.
Renault is returning to Formula 1 by purchasing the Lotus team in 2015. Renault was in the F1 series continuously from 2002 to 2010, before exiting and selling the team. The current Lotus F1 team is essentially the same shop the car manufacturer sold in 2010.
The deal is yet to be closed, but if it does go through the team will be in transition in 2016. In 2015 the Lotus team raced with Mercedes engines, while Renault engines have been underpowered and under fire from Red Bull and others.
The team will not be called Lotus F1, but Abiteboul hints that there is history behind the name. Renault has been reviving the legendary Alpine brand that used to make sports cars with Renault engines. In fact Alpine and Renault together designed the first Turbo Powered Formula 1 Car, the Renault RS01:
The creation of a Turbo engine for the Alpine sports car that was to lead to the idea of a Grand Prix car powered by a Turbo charged 1500cc engine.
-- Alpine & Renault: The Development of the Revolutionary Turbo F1 Car 1968-1979
Another option would be the Gordini brand, a part of Renault Sport Technologies.. But this story would seem like Alpine F1 is the way to go for the team, operating from Enstone, United Kingdom. Read details about the modern Alpine A 110-50 Concept car.
Written by Janita on Sunday November 22, 2015
Permalink - Tags: f1, renault, motorsport