18 room mansion in Hollola goes on auction, starting price one euro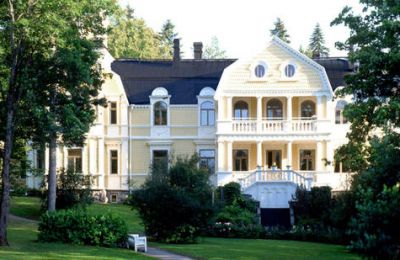 The historical Pyhäniemi mansion is to be sold on auction with a starting price of one Euro. The building located in Kutajärvi, Hollola has 18 rooms, kitchen, sauna and 6 bathrooms. Definitely large enough for a big family.
The property includes the 970 square meter main building, as well as an additional 360 m2 side mansion. Recently the location has served as a leisure apartment for spending free time, during summers there have been art galleries and theather shows.
The mansion is a historical building, with the first mentions of it from 1467. Over the years the mansion had notable visitors like King Gustav III in 1783. It has served many businesses from cattle herding to cheese and farming of exotic cheeses.
A curious incident in the history of the building was in 1912 when owner Oskar Collin lost the mansion to Hendrik Max Gilse van der Pals, while gambling at the Monte Carlo casino. In the 1930's the mansion was a set for a lot of films, and it was also used for a movie in 2009.
Those looking to pick up the estate for an euro might be dissapointed, as there is plenty of demand for this type of historical buildings, which are rarely on the market.
More information and pictures are available on the real estate site Etuovi: 18 huonetta +k+saunaosasto +6 wc:tä päärakennukses, 970,0 m², 1 €
Written by Janita on Wednesday May 9, 2018
Permalink -