Comedian Ismo Leikola sm-ass-hes Conan O'Brien show video records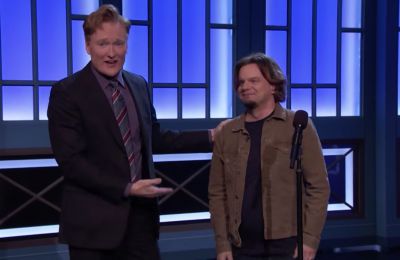 The last week of January 2018 was a milestone page for Finnish stand up comedy. The comedian Ismo Leikola appeared on Conan O'Brien's show. The TBS show Conan is the first opportunity a Finnish comedian has had a chance to perform in a US talk show.
It appears the first appearance on the show went very well. The studio audience laughed at the jokes and host Conan O'Brien praised his performance. Apparently the two had positive discussions also back stage after the show. The comedian's career could get a significant boost from this single event.
Curiously, most of the five minute performance focused on the english word ass. The session starts with some rather lame puns like "tip of the ass-berg", but for most of the time he talks about the meaning of the word. He said the word seems very straightforward and would behind the behind of a person.
But(t) in reality there is a plethora of different meanings for the word in modern English. The conclusion that the word "ass" is probably the most difficult word in the English language. To see the reasoning behind it, watch the captioned video below:
Notably the video has gone viral across the globe. By Friday morning on February 2nd the video on Facebook has received over 51 Million views, almost 600,000 Likes and over 1 Million shares on the social network. These are record numbers for any clips from the comedy show, which have been added to the page since 2010.
A large part of the popularity of the video is the fact that Finnish countrymen are eager to share the performance online to their friends. This is known as the torilla tavataan effect. Through network effects this has multiplied and there are comments and views from around the world.
Ismo Leikola is no stranger to international audiences as he won the Funniest People in the World contest. The event was held in Las Vegas in 2014 and Leikola got gold with a by 150,000 votes. He received a cash prize of $10,000 and a tour in the United States.
Congratulations to Ismo! Torille! You put it right up in the ass of... Timo?
Written by Janita on Friday February 2, 2018
Permalink -