Construction of Finland's first outlet village Helsinki-Outlet begins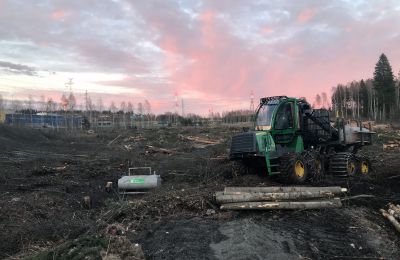 Construction of the first outlet village in Finland has begun in east Vantaa, close to Kehä 3. The plot just across the road from the Vantaa IKEA will host multiple high street brand stores from spring 2019 onwards.
Originally the shopping facility was supposed to open in 2016, but there have been some delays in the joint venture between Finnish Nordlett Oy and Norwegian Fortus AS. Now construction is well under way and the forest is already cleared from the land, with foundation work continuing soon.
The Porttipuisto outlet village is expected to attract visitors from the greater Helsinki region. Visitors from Helsinki, Espoo and Vantaa are expecte to form the bulk, but visitors from cities like Hämeenlinna, Lahti and Kouvola are also expected. Foreign visitors could also come from Estonia or Russia, as the connections from Tallinn and St. Petersburg to Vantaa are good.
Outlet villages are a popular attraction across Europe and the Americas. They are formed from a number of brand name shops, which are often located outside in a closed area. The Porttipuisto village will be covered, so shoppers can visit all year around.
The stores that will open in the first outlet village in Finland have not yet been announced, but the villages ran by Fortus AS in Norway have stores from the following brands: Björn Borg, Calvin Klein, Filippa K, Gant, Gerry Weber, G-Star Raw, Guess, Helly Hansen, Diesel, Hugo Boss, Nike, Peak Performance, Levi's, Lexington, Scotch & Soda, Superdry, Tiger of Sweden, Timberland, Tommy Hilfiger, Triumph, Under Armour ja Vans.
Written by Janita on Thursday April 26, 2018
Permalink -