Customs statistics: Diesel fuels the most valuable export produce in 2017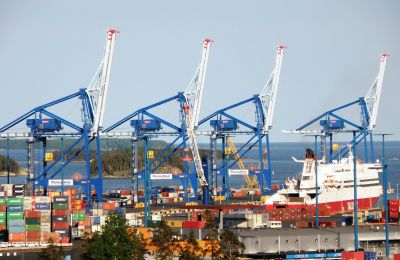 According to the statistics from Finnish Customs' statistics for 2017, the growth of exports from the country grew by 15% in 2017. The total value of exports was 59,5 Billion out of which the largest product was surprisingly diesel fuels.
Diesel fuels are now the largest single export product of Finland, jumping to first from third place. The country does not have oil resources, but rather refines them from imported oil. In addition renewable diesel and plastics produced from byproducts of the forest industry as well as food waste is a growing sector.
The value of diesel fuel exports passed coated paper in 2018, rising by some 19 percent to 4,5 Billion euros. Exports of coated page grew by 0,5 percent to 3,8 Billion. The result can be considered a success, as demand of paper continues it's long decline. The third largest export products are passenger cars, whose exports grew by 114,5 percent to 2,4 billion Euros.
In 2016 exports of passenger cars were just the eighth largest group, but they have been boosted by expansion of Valmet Automotive's Mercedes-Benz production by GLC models in Uusikaupunki. Growth in passenger car exports is expected by the production of the new Mercedes-A-Class (W177) starting in 2018.
The fourth largest export is Stainless steel plates grew by 13% to to 2,2 Billion euros. Another raw material is timber is the fifth largest export, dropping pulp products to sixth place. Values for these are 1,8 and 1,7 Billion respectively. Both forestry products experienced a growth of 11%.
Paper and pulp still significant, bioproduce promising
It is expected that during 2018 pulp produce will pass timber in value, as the new Metsä Fibre Äänekoski factory will run in full capacity. In general the Finnish forestry industry continues on an upswing, being able to diversify from pulp and paper to bioproduce.
Novel products as lignin and MicroFibrillated Cellulose (MFC) can open up new fields for the forestry industry in the country. The brisk world economy is expected to drive timber exports in 2018 as well, but exports of uncoated paper are expected to fall. In 2017 exports of uncoated paper decreased by 8%.
Bioproduce will not yet be make up for the decline in paper demand, but it should be considered as a future prospect. Other notable exports from the Nordic country's industries are medical equipment, cruise ships as well as electrical transformers.
Source: Trade deficit lower than the year before - Value of goods exports increased by 15 per cent in 201
Written by Janita on Thursday March 8, 2018
Permalink -