Frustrated Citizen Steals Traffic Camera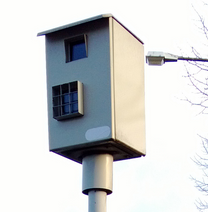 The traffic camera near the Karvio channel in Heinävesi was stolen last night.
A frustated citizen has cut and removed a traffic camera pole last night at arount 1.40 AM. The device is worth around 50 000 Euros.
Police requests any witnesses to call the Savonlinna police station at 071 875 5200.
Written by Janita on Wednesday June 12, 2013
Permalink -