The plastic Futuro "ufo house" was the 1960's vision of the future of living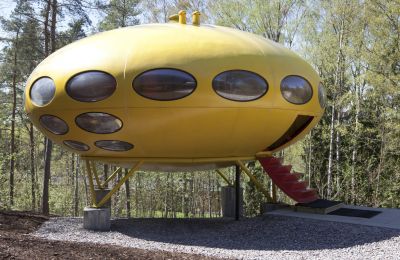 The Futuro is a plastic house designed by architect Matti Suuronen in 1968. The world's only Futuro house open to the general public is located in Espoo, Finland. The fifty year old eccentric building is located in the exhibition center Weegee.
The Futuro-house in Weegee is the first mass produced one, with the serial number 001. From 1968 to 2011 the building was owned by Katti Kuusla and was located in Hirvensalmi. In 2012 it was moved to Espoo and put on display in May of the same year. It has been a popular attraction ever since.
A total of 65 Futuro houses are known to be built, but only three are owned by museums. This is the only one that is open to the public each year, and it is also the only one with the original interior in place. In 2018 it is open to the public from 15th of May to September 16th.
The fiftieth anniversary of the Futuro comes with additional program. If you've ever though of visiting this vision of plastic architecture from the 1960s - this year is definitely the best time to do that. See the trailer of the house below and the Weegee site for more details.
Written by Janita on Monday April 23, 2018
Permalink -