Helsinki metro western extension to Espoo lagging behind usage estimates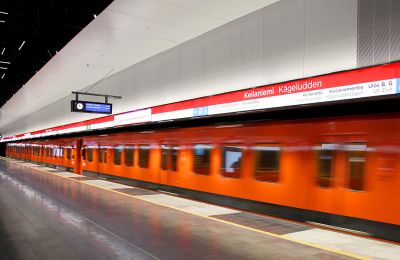 The passenger count of on the recently opened Länsimetro extension to the Helsinki region metro line has not met expectations regarding passengers count. The number of daily passengers is around 10 percent lower than expected.
The forecasted total count for passengers for the Länsimetro was expected to be 60,000, but so far on average only 55,000 daily commuters use the connection according to Helsinki Region Transport.
Some stations have fared better than others. Tapiola is counting 7,000 daily passengers, where the expectation was 10,000. The Aalto University station bests estimates by an average of 1,000; In February usage peaked at 8,300, well above the estimated 7,000.
The estimates were based on a mathematical model, which is a simplified representation of the reality. It does not take into account construction around the new stations. For example the surroundings around Tapiola and Keilaniemi are still under heavy development.
Opening of Länsimetro decreased ticket sales in areas
According to experts common that it will take inhabitants over a year, before a new mass transit method is fully adopted. So far the effects of Länsimetro for public transport has been negative, as ticket sales have decreased in Suomenoja, Espoonlahti, Haukilahti and Westend.
The reduction in bus connections freed up space on the Länsiväylä motorway. Commuting by electric cars was made more appealing by allowing EV drivers to use the designated bus lines. Unfortunately despite generous tax incentives electric cars remain a luxury vehicle in Finland, meaning that the bus lane allowance plays to the advantage of the well-off.
All in all, the initial numbers are a letdown and it seems the metro has increased commuting by car from the wealthy, but remote regions in Espoo and Kauniainen. Many connections have been made worse by the reduction of direct bus connections to Helsinki. This has been acknowledged by HRT and some bus routes from Espoo to Helsinki will be restored.
Source: Länsimetrolla karu vaikutus: Ei vedä matkustajia odotetusti – matkakorttimyynti jopa vähentynyt
Written by Janita on Saturday May 5, 2018
Permalink -