Kurikka men build 400 hp V8 combine harvester: 0-100 km/h in five seconds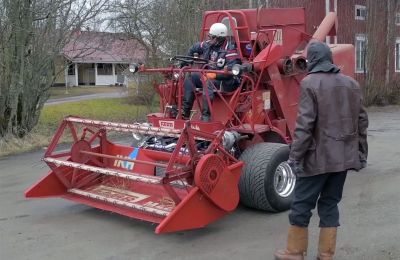 Near the town of Kurikka, in the Village of Panttila lies a unique set of wheels. At first glance it looks like a bastard child of a combine harvester and a top-fuel dragster. In this case the first impressions are not completely wrong.
In an interview with Maaseudun Tulevaisuus, motor enthusiasts Petri Plosila and Raine Savioja give details on the vehicle roaming the back roads of Kurikka. There is also an introduction video underneath.
got the initial idea the over-the-top combine harvester back in 2016 when they were planning modifications to a quad they owned. The project quickly became a reality as the petrol head duo acquired a 1967 Fahr M 44 Super harvester from Noormarkku to act as the base.
Modification work was completed just before easter 2018. At this point there combine harvester has received a significant number of modifications. The most significant structural change is modifying the Fahr from rear to front wheel steered for improved controlled.
To power the sixties farming machine the Plosila and Savioja installed a 1976 Cadillac Eldorado 8.2 liter V8 engine. To ensure sufficient power output, the pair put in place twin turbochargers. Parts were sourced from Finland as well as the United States.
Top speed is yet to be tested, but it is believed that the device could reach over 250 km/h and the estimate for a 0-100 km/h acceleration is estimated at 5 seconds.
Video of the 400+ horsepower combine harvester
Source: Kurikassa ärjyy huippunopea leikkuupuimuri – "Pellin alla on pitkästi yli 400 hevosvoimaa"
Written by Janita on Saturday May 12, 2018
Permalink -