Linnanmäki amusement park in Helsinki to open Europe's most intense roller coaster ride in 2019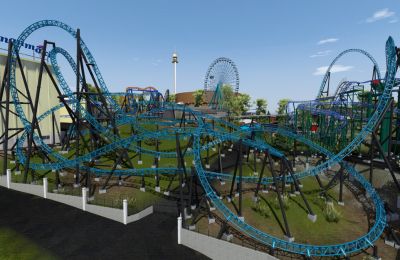 The Linnanmäki amusement park in Helsinki will have a new flagship ride. The Taiga roller coaster ride is said to offer the most intense experience in Finland, if not in the whole of Europe. Construction is already underway and the new roller coaster is scheduled to be ready for the 2019 season.
Linnanmäki in Helsinki is the country's most popular single tourist attraction with over 1 Million visitors annually. The park has been in operation since 1950 and is operated by a non-profit foundation that raises funds for children's welfare work. In 2017 the total donations by the foundation clocked in at 4.5 Million euros.
The new Taiga roller coaster being built in the amusement park has a maximum speed of 106 kilometers per hour, with an average speed of 63 km/h. At it's highest point the ride is 52 meters high and passengers will be turned around four times over the course of the track.
With a total length of over 1,1 kilometers the new ride is so massive that it will span over many of the other attractions in park. During the 2018 season parts of Linnanmäki will be closed due to construction work. In addition to breaking records in speed and size, the 10 Million investment is also the largest of it's kind ever done in Finland.
See an introduction video to the Linnanmäki Taiga roller coaster below:
Source: Linnanmäki maksaa yli 10 miljoonaa euroa Euroopan hurjimmasta laitteesta – Kuva: 106 kilometria tunnissa, korkeus 52 metriä...
Image: Linnamäki
Written by Janita on Friday April 20, 2018
Permalink -