First Outlet Village in Finland to open in spring 2019 in Vantaa, near Helsinki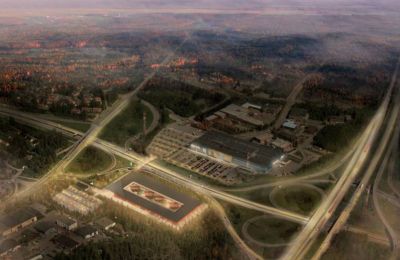 The first Outlet Village in Finland is set to open in the spring of 2019 in the greater Helsinki region. The shopping complex will be built in the Vantaa Porttipuisto area, close to the IKEA store. The news comes after a series of delays of the project.
The village was originally set to be opened in 2016, but the venture has faced some unexpected delays. Now the joint effort between the Finnish Nordlett Oy and Norwegian Fortus AS expect construction to begin shortly and that the location would be ready for visitors in the spring of 2019.
The Porttipuisto Outlet Village s the first of it's type in Finland. There is a cluster of retail shops in the Tammisto area in Vantaa close to the shopping mall of Jumbo, but the Porttipuisto facility is the first outlet retail area where visitors can walk from store to store.
The Outlet Village concept is popular in Europe and around the world. High street brands will open their own boutiques in the location and customers can find a large selection of high quality products in close proximity. Prices can be at discount level as well, as the off-season gear is often liquidated in outlet village shops.
Outlet village with Fashion, outdoors and home decor
Originally HOK-Elanto planned to build a Kodin Terra store to the plot just accross the road from the Vantaa IKEA. In the first stage the facility will span somewhere between 10,000 and 13,000 square meters. Stores will focus in fashion, outdoors and home decor. The Vantaa Outlet Village concept will resemble ones in Europe.
It is meant to be a shopping location where punters come from a distance, just to do shopping. A majority of visitors are expected to come from the Helsinki region, including Espoo but visitors could come from a bit farther away from cities such as Hämeenlinna, Lahti, Kouvola and Kotka. Travelers from Jyväskylä, Tampere and Turku visiting Helsinki could also find their way there to find good deals on premium brands.
The village could also attract some visitors from abroad, mainly from Estonia capital Tallinn but also from Russia, whose metropolis of St. Petersburg is located some 380 kilometers, a 4.5 hour drive away. With opening times in Finland now being unrestricted, the shops can be expected to be open even during holidays like Christmas and Easter.
The brands in the outlet are expected to be the same as of those in the Norwegian outlets operated by Fortus AS in Oslo and Stavanger, who carry brands such as: Björn Borg, Calvin Klein, Filippa K, Gant, Gerry Weber, G-Star Raw, Guess, Helly Hansen, Diesel, Hugo Boss, Nike, Peak Performance, Levi's, Lexington, Scotch & Soda, Superdry, Tiger of Sweden, Timberland, Tommy Hilfiger, Triumph, Under Armour and Vans.
Translations: First Outlet Village in Finland to open in spring 2019 in Vantaa, near Helsinki, первая выходная деревня в Финляндии, которая откроется весной 2019 года в Вантаа, недалеко от Хельсинки, Esimene väljundküla Soomes, mis avatakse 2019. aasta kevadel Vantaas, Helsingi lähedal, Das erste Outlet Village in Finnland soll im Frühjahr 2019 in Vantaa bei Helsinki eröffnet werden, 芬蘭第一個出口村將於2019年春季在赫爾辛基附近的萬塔開業, フィンランドの最初のアウトレット村、ヘルシンキ近くのヴァンタで2019年春にオープン, 헬싱키 근처 반타 (Vantaa)에서 2019 년 봄에 핀란드 최초의 콘센트 빌리지 마켓 오픈
Written by Janita on Monday March 5, 2018
Permalink -