Popular Finnish online store Verkkokauppa.com site hacked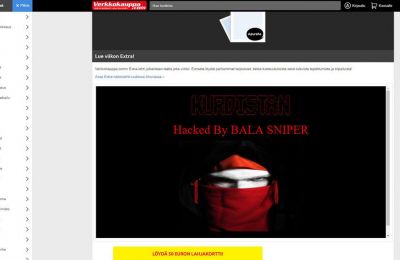 Finnish tabloid Iltalehti reports that the popular online store Verkkokauppa.com was hacked in the weekend. When following the the Extra publication link, an unexpected banner was shown. It had an image of a shrouded face and the following text: Kurdistan. Hacked by BALA SNIPER.
In addition the page had flashing gifs and it was showing an email address where the administrator should be in contact if they wish to gain access to the site. Iltalehti contacted Verkkokauppa.com 24/7 support line on Sunday evening. According to the first call there was nothing out of the ordinary.
The reporters continued to see the banner repeatedly and contacted Verkkokauppa.com for the second time. This time it was confirmed that there were inappropriate materials on the site and that an investigation will be done.
Early on Sunday morning the eCommerce shop verified the hacking was done, but that the compromised system was from a third party. Verkkokauppa.com blocked access to the system for repairs. Because the compromised system was separate, the security of visitors to the online store was not breached.
Source: Hakkeri iski Verkkokauppa.comiin - "Bala Sniper" lisäsi rajun bannerin yhdelle alasivuista
Written by Janita on Monday April 23, 2018
Permalink -