Prices of new apartments drop by 6,7 percent in the greater Helsinki region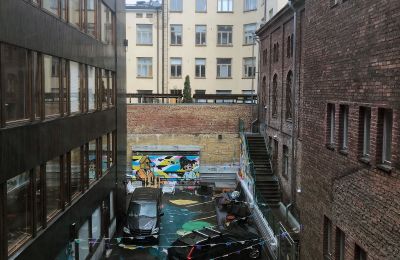 According to Statistics Finland the prices of new apartments decreased by 6,7% in the first quarter of 2018 year on year. The asking price for new condominiums in the whole country was down compared to the previous quarter, with the national average being 3,641 euros per square meter.
Compared to the last quarter of 2017, prices dropped by a mere 0,2%, meaning there was not a significant drop in the Helsinki, Espoo, Vantaa and other munipalities close in the capital region. The average price for a new apartment in the area is some 4,691 €/m2 - around a thousand euros more than elsewhere in the country.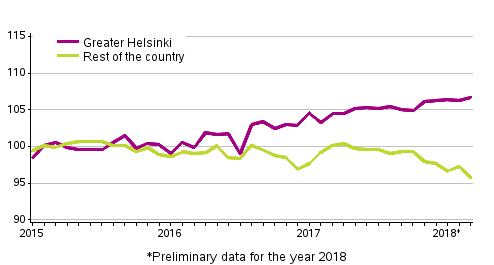 Prices of old apartments, however continued to rise by 0,2 percent in the capital area. Elsewhere in the country the prices dropped by one percent. The average price in the country is now 2,045 €/m2, where as in the capital region it is 3,593 €/m2.
This continues the trend where housing prices in Finland continue to diverge into two markets: The soaring Greater Helsinki market and the rest of the country where prices are dropping.
In 2017 there were a total of 62,600 old apartments traded in Finland, which represented an increase of some 2,1 percent. The total value of the market last year was a bit over 10 Billion euros, over half of the sum came from the Uusimaa region in southern Finland. The Finnish economy continues to grow, but economists have warned the Swedish housing bubble could be a serious blow to the economy of Finland, but so far this fear has not been materialized.
Remote work from remote areas is the route to riches?
Regional centers like Oulu, Tampere and Turku continue to attract people and thus prices in these cities is positive. Outside of these centers price development can be abysmal. An area in Kotka being a radical example where a duplex apartment was sold for 9,500€ in 2017.
Remote areas in Finland represent an opportunity for remote workers. Doing remote work to some of the most expensive cities in the world, like Singapore, Tokyo or Zürich, can yield a gross monthly income to purchase a whole apartment with a single month's wages. Combined with trivial tax planning through an Estonian company and a cheap alcohol and cigarette supply from Russia, an IT-peasant can live like a Czar in Finland with minimal taxes.
Information on real estate price in Finland can be found using the real estate price database from ARA. In addition the Finnish IT company Reaktor has built an a free service that utilises Artificial Intelligence to predict real estate prices in Finland. Regional price data and predictions are made available through an accessible map interface: Kannattaako kauppa
Source: Prices of dwellings in housing companies decreased in the first quarter
Written by Janita on Wednesday May 2, 2018
Permalink -