ProBoost M1: a BMW V8 powered street legal motorcycle from Finland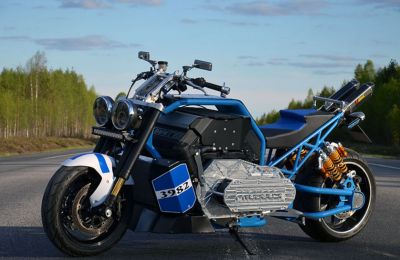 The first street legal custom built motorcycle with a V8 engine is now registered in Finland. The build was done by Jarmo Kelahaara. The turbo motoring entrepreneur plans to sell the ProBoost M1 bikes for 23,000 € (before taxes) in the future.
The outlandish project got started around two years ago when the legislation for custom built motorbikes changes in Finland. The regulations did not limit the engine size or weight which left room for the petrol head's imagination. The man decided to build a bike around a V8 engine from a BMW 540i.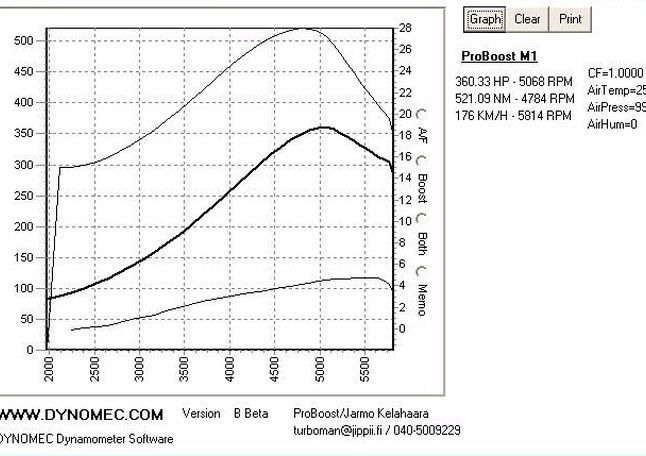 The BMW engine block is aluminium, making it relatively lightweight. In it's standard configuration the V8 pumps out 286 horsepower, but Kelahaara decided to add a few turbo chargers to bring power up to around 360 HP / 521 NM.
The build was centered around the engine, making a steel tube frame around the engine was the first step. The sheer size of the bike required some unconventional engineering. The front suspension is from a Suzuki Hyabusa motorcycle. Or two of them, to be precise.
Like the front suspension, the rear suspension also has four shock absorbers - but this one is a custom build. All of this makes the bike quite big, with a total length of 2,65 meters and width of 85 centimeters. Dry weight of the bike is 450 kilograms, with a total maximum set at 550. Road legal tire sizes are 150/60ZR17 in the front and 260/40VR18 in the back.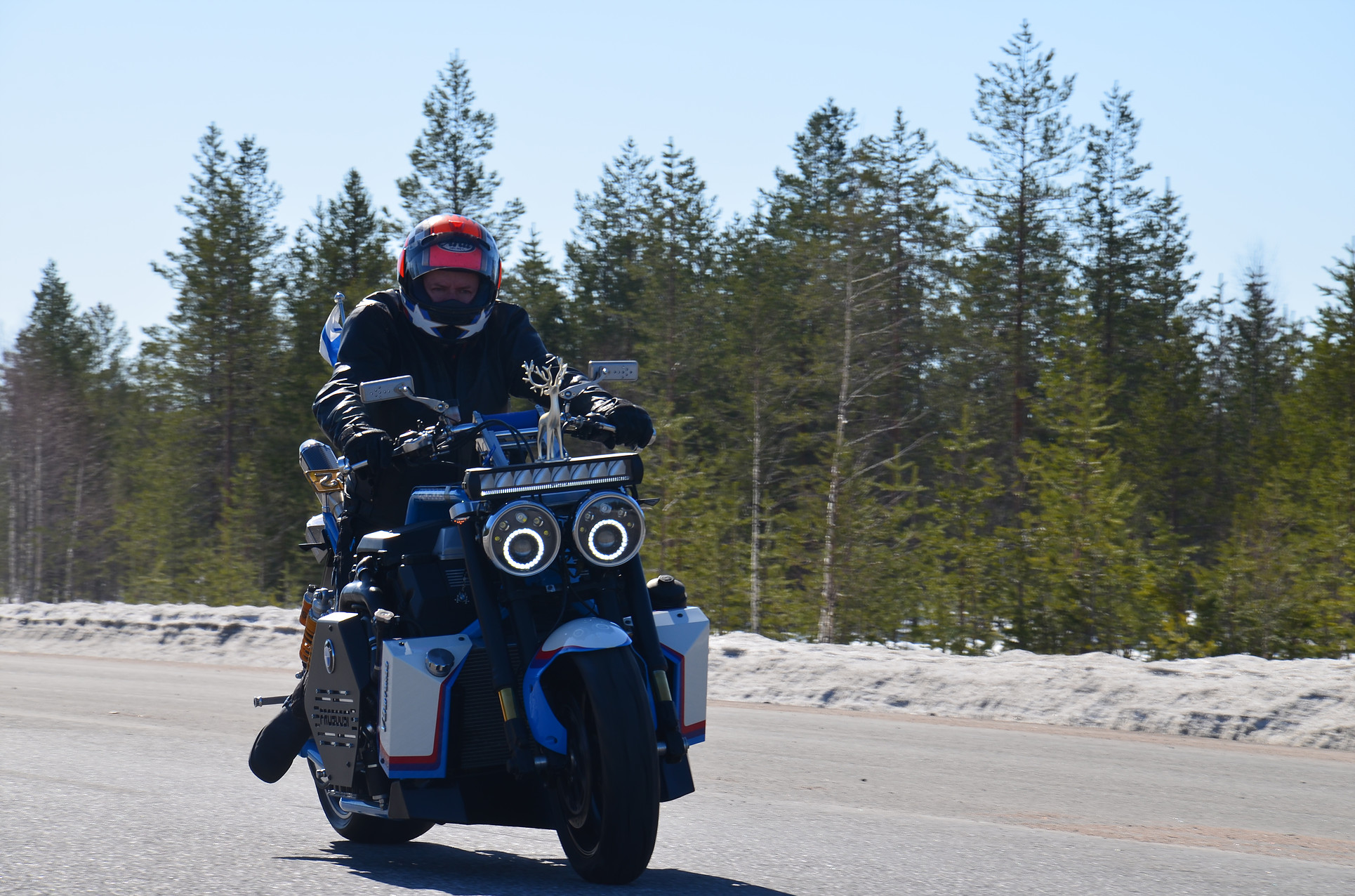 The large size and huge power sparked fears that the bike would not be drivable. Those fears proved wrong as the crankshaft acts as a gyroscope that keeps the bike upright even at slow speeds - Making for a stable ride.
The bike is currently one of a kind, but will be available for purchase with global shipping. Kelahaara is ready to start building as he already has one 4.0 liter BMW V8 in store for the first order.
Based on detailed plans and 3D schematics the bike will be available as a kit for 2,400€ (+ VAT) and as a complete build for 23,000 €. Production will be done by Kelahaara's company ProBoost, a company that has developed and manufactured turbo kits for motorcycles since 1994. More information on the ProBoost M1 is available on the company website: proboost.fi
ProBoost M1 motorcycle videos
ProBoost M1 vibration test - BMW V8
ProBoost M1 Twin Turbo - Dyno drive 360hp / 521nm / 0,45bar
ProBoost M1 motorcycle slow speed driving test
Written by Janita on Tuesday May 8, 2018
Permalink -