Unsolicited gardening surprises Nokia woman in a mystery landscaping case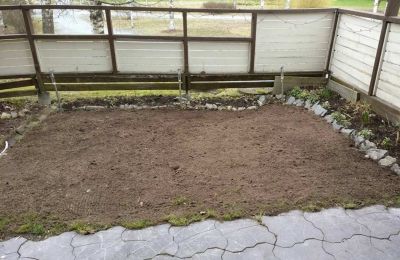 Nokia inhabitant Outi Kanerva was surprised as she arrived from work on Friday afternoon to find a freshly remodelled back yard. This curious case of unsolicited gardening in Nokia took place while her husband was sleeping inside.
Talking to Aamulehti, a Tampere newspaper, she says that someone must have climbed the fence to get to the yard. The mystery gardener then went on to clean the yard, add fresh soil, sow grass and clean the patio tiling. Before leaving the sneaky horticulturists also perked up the garden sofa pillows.
Kanerva says that she is happy with the result, but says that the execution was slightly creepy. Her husband was sleeping inside after a nightshift and completely missed the operation. According to him nobody asked for permission to conduct the gardening act.
It is still unknown who is behind this deed. The landlord or housing company are not aware of what happened, but neighbours had made note of the uninvited landscaping crew. According to them there work was done by two women armed with a swath of gardening tools.
The workers had used a red car, but their identity remains a unknown. Outi Kanerva believes the mystery will be soon solved. The latest is when the person who ordered the work to be done on their garden starts to wonder why the work has not been done and who is to pay.
Yet another episode of CSI: Finland
Source: Takapihalla odotti yllätys, kun nokialaisnainen palasi töistä kotiin – Vuokranantaja ja naapuritkin ymmällään: "Ajatus kaunis, toteutus hieman creepy"
Written by Janita on Sunday May 6, 2018
Permalink -