Helsinki Outlet asukoht ja kauplused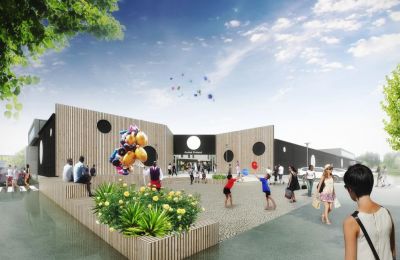 The Helsinki Outlet construction is well under way next to the Kehä 3 ring road close to Vantaa and Helsinki Border. Now the company building the outlet village has confirmed the stores that will be in the facility opening in 2019.
Helsingi väljundi ehitus on hästi käimas Vantaa ja Helsingi piiril asuva Kehä 3 ringtee kõrval. Nüüd on väljavoolu küla ehitanud ettevõte kinnitanud kauplusi, mis asuvad rajatises 2019. aastal.
Norra ettevõte Fortus AS tegutseb mitmel sarnasel kaubanduskeskusel Norras. Helsingi väljundvõrgustik sisaldab endas 40 moodi ja elustiili kauplust.
Registreerunud peamised üürnike kaubamärgid on Hugo Boss, Gant, Marimekko, TigerofSweden ja xGuess. Neid leibkonna kaubamärke oodatakse külastajaid meelitades, kuid seal on ka täiendavaid rahvusvahelisi moeloojaid, spordi- ja kaubamärke ning sisekujunduspoode.
Pargi vahetus läheduses on Port-Tüpisto piirkonnas ka Vantaa IKEA ja teised jaemüügikauplused. Esimesel etapil on Helsingi väljapoole 10 000 ruutmeetri kauplust, 3-5 restorani ja kohvikuid ning 3500 ruutmeetrise laste mänguväljakut.
Helsingi väljapoole on suhteliselt keskne asukoht; Helsingi kesklinnast 17 km, Helsingi-Vantaa lennujaamast 10 km ja 4 km Tikkurila Vantaa piirkondlikust keskusest.
Helsingi väljundkaart ja sõidujuhised
Fortusi müügikohtades on teised kaubamärgid järgmised: Björn Borg, Calvin Klein, Filippa K, Gant, Gerry Weber, G-Star Raw, Guess, Helly Hansen, Diesel, Hugo Boss, Nike, Peak Performance, Levi's, Lexington, Scotch & Soda, Superdry, Tiger of Sweden, Timberland, Tommy Hilfiger, Triumph, Under Armour and Vans.
More information:
Written by Janita on Saturday May 5, 2018
Permalink -